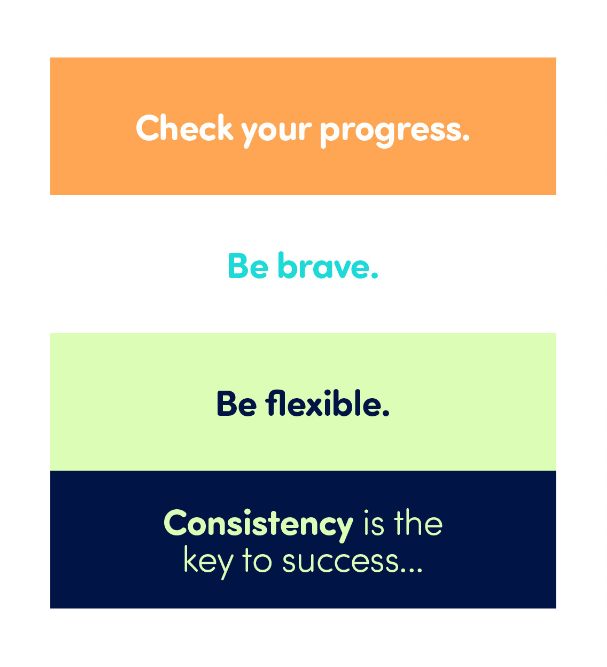 5 Tips That Could Help You Achieve Creative Success
Consistency is the key to success…
1.     Be Consistent
Having a plan and a consistent strategy will help save you time and money in the long run. Success doesn't come from what you do occasionally it comes from what you do consistently.
2.     Be Brave
Do your research, outsmart the competition, understand your customer's needs, challenges and problems. Get inspiration from your team, your customers, your environment and mother nature. Don't be afraid to be bold, think outside the box, mix up your creative and marketing. Use fresh ideas and engaging content that relates to your customers. Provide solutions to your customer's problems and ensure it's relevant to the channels you are using.
3.     Know What You Want To Achieve
Set realistic goals and budget for them; raise brand awareness, drive more traffic to your website, improve customer service or increase sales. It's important to understand what works best for you and your business. If you don't have the internal resource or knowledge to achieve your goals you may have to consider external support and budget accordingly.
4.     Be Flexible
Do the results you are getting align with your business plan? Stay focused on the outcomes you want to achieve. It's easy to get side tracked by others, so do what is right for your business and your customers. If one approach or platform isn't working for you, your team and/or your customers then try another. Don't look at fails as a waste of time. Yes, it's disappointing if you don't win at everything but that's life. Fails are experiences you can learn from. Evaluate everything you do, build on your successes. Circumstances and changes in your business do happen and you need to be flexible to change. Adjust your plan accordingly.
Raising brand awareness, increasing website traffic, boosting enquiries and sales… can you do better?
You don't have to reinvent the wheel, but your content should be fresh, original, up to date and relevant.
Build in small changes to your plan and test slight changes to your approach to see if you can improve your results. For example when it comes to your creative approach, change your infographics for photographs, change people for no people images, change the headline / call to action. See what works best for your brand and most importantly check your analytics, insights and sales results.
In summary, take time to check:
what your results look like; from your advertising, marketing, analytics, insights, customer recommendations, feedback, most importantly enquiries and sales results.
your results align with your business plan
your brand is cutting through and stands out from the masses of content and advertising your customers are exposed to each day
 you're consistently producing quality relevant content
what tweaks do you have to make to your strategy and/or tactical plan
Small changes can make a big difference.
If you haven't already seen our FREE creative health check offer, don't miss out… check it out now!