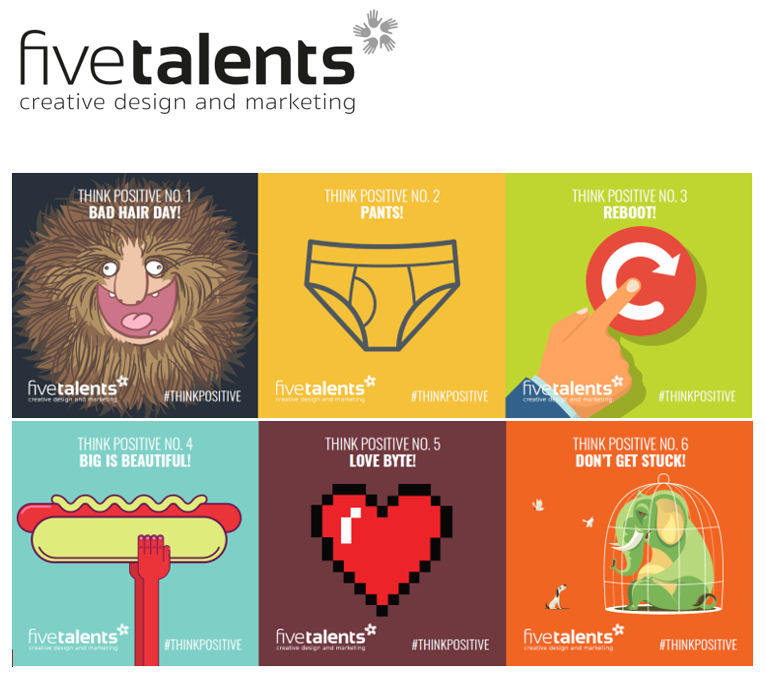 6 #thinkpositive tips
…from the Five Talents creative team
In a time where we don't know what's coming next and most of us are in our second week of working from home, we're continuing in the best way we can. Taking each day as it comes and keeping our creative spirits up.
Last week we launched our #thinkpositive campaign, with more to follow, share your thoughts with us on ? Twitter, FB, LinkedIn Or Instagram
? And, if you're not on social media, here's a round-up of last week's 6 #thinkpositive tips from the Five Talents creative team;
TP No. 1 – Bad Hair Day! ?‍♀‍
Rock that bed head, own your bad hair day.
Remember to only answer conference calls on audio only!
TP No. 2 – Pants! ?
Smile all day long knowing no one can see your pants on a video call!
TP No. 3 – Reboot! ?
No need to hassle the IT guy…..just reeeeeeeeeeboooot!!
TP No. 4 – Big is Beautiful! ?
Who doesn't love a big sausage? But not in their inbox! Send your large files via wetransfer, mailbigfile or dropbox
TP No. 5 – Love Byte! ??
Get your file size right and everyone will 'LIKE', 'SHARE', 'REPOST' and most of all LOVE your social posts ?? file-size-matters
TP No. 6 – Don't Get Stuck ☎
If you feel like you are stuck on a problem, pick up the phone and we will help you out if we can ?
More #thinkpositive tips will follow this week on Twitter, FB, LinkedIn Or Instagram why not get involved, join in the chat, share some of your thoughts and tips ?
Take care, stay safe and well. We wish you all the very best in these difficult, challenging and uncertain times, from all The Five Talents Team.